We all want to have a book that sells off the shelf, right?
These statements probably sound familiar:
First impressions are the only impression that matters.
Perception is reality.
Dress for success!
"You only get one shot, do not miss your chance to blow

This opportunity comes once in a lifetime" – Eminem – Lose Yourself
The fact of the matter is – when you are building an author BRAND, you have a responsibility to put your best foot forward (another one!). As you prepare for launch, or as you continue marketing a book, people want to feel confidant that they are buying a book that is not going to be another crappy book that was self-published. Ouch. Did I say that out loud? I'm sorry friends, but you've all seen them. You know immediately, this book was not published by Random House.
Let's not be THAT book. It's not hard or expensive to look professional. Trust me. You just have to know what the resources are to help you.​
Real talk: I put on makeup and fuss over my clothes before I host a webinar. I know: feminism! And it doesn't really matter and all those things. Sure. But in a world when we can't shake hands and take the measure of each other, looking my best helps me feel more on top of my game. I am able to present myself to my audience and my potential clients — in a way that makes me feel professional.  Because my goal is to be the person who comes to mind when you think of a publishing and book marketing expert. Now, I like to think you'd accept me as a professional, respected author coach, best selling author and publisher if I showed up with bedhead and pajama pants with little pictures of dogs wearing Santa hats…but I don't want to take the chance.
Your book is no different, friends! You didn't spend all that time writing it, all that money hiring the best editor, all that creative energy to choose the perfect book cover just to have your marketing look like it's got pajama pants on.
Moreover, having professional looking marketing that isn't just attractive but that's available at the drop of a hat is what can set your book apart. When you're getting in front of a big name podcast, placing your first ad in a newsletter or amping up your social media game before your book launch, you need graphics that represents the best "you" and the very best of your book.
Graphics can help you create your brand, ensuring potential readers can take one glance and know something great about your book. Our WPS Instagram strategist, Raewyn Sangari agrees: "When marketing your book on social media it is vital to have imagery consistent with your book's cover and theme. This builds recognition for you as an author and for your upcoming book! Don't miss an opportunity to build your brand."
Want to get some GREAT tips on eye-catching graphics to make your book marketing efforts stand above the rest?
Yes, you do! (Trust me, you do!) I'm so excited to welcome Kathleen Sweeney from Book Brush to talk to you all on THURSDAY, August 20, at 1pm EDT. This FREE demo – and yes, we will be sending out a recording if you can't make it, so no worries! Kathleen is going to really dig into why this part of marketing matters so much. Together we'll check out how Book Brush makes it easy to create eye-catching graphics for social media, PLUS we'll see the video effects that are possible. Kathleen will even show us how we could save even MORE money by designing our own book covers using her company's tool. It really is a fantastic software platform that allows authors to present professional, dynamic marketing worthy of their book. There truly is something for every writer's toolbox!
Join me for this free live demo by getting registered right here – let's beautify our books together! No more pajama pants – at least not for our books!
---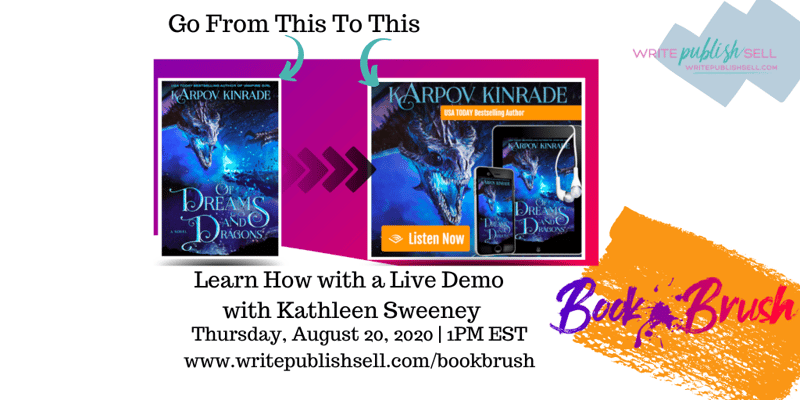 Join us for a totally free demo of Book Brush, a software platform that will help you create beautiful, useful marketing graphics for your book, even if you're a graphic design newbie! Kathleen will walk through the features and offer tips and tricks for becoming an expert user! Sign up to join us on Thursday, August 20, at 1pm EDT – a recording will be sent out when we're done, but only those who register will receive it! Register here!