We are PUMPED up right now. We have a children's book launching September 15th, and based on the engagement the book is getting across Netgalley, Instagram, and GoodReads, we are positioned for an incredible launch.
There is one tool I see authors skip over time and time again, even though it's FREE and they probably even already use it. What is it? GoodReads! Yes, the same site where you compare notes with your family and friends before you vote on a book club choice has HUGE marketing potential for authors. Think about it: you're probably a reader with an account on GoodReads. You can probably remember more than a few occasions where you saw that one of your social connections had 4-starred a book, and you went right in and stuck that same book on your "want to read" shelf. Maybe you even headed straight to Amazon to buy it. And in doing so, you spread the word about that book for its author – your interest served to market it for them for free. It's an excellent way to leverage social connections to reach people already primed to read.
Back in 2017, my phenomenal team member, Nancy, and I went to Book Expo in NYC. We listened to this fascinating presentation about GoodReads. They shared the details of how, because of the activity on GoodReads, the book had THOUSANDS of reviews and a ton of buzz before it even launched. The book hit ALL the big lists at launch, and sold a ton, thanks in no small part to the GoodReads strategy, combined with a solid launch and marketing strategy.
[bctt tweet="How we use #goodreads to market our #booklaunches. #booklaunch #bookmarketing #amwriting " username="womeninpublish1″]
We knew it was a powerful tool before that day, but it really gave me a whole new understanding of how much it can move the needle.
I had been using GoodReads as a reader for a long time. I love the fact that it's a social site dedicated 100% to avid readers. True book fans. Everything that happens on the site is related to books, reading, authors, and writing.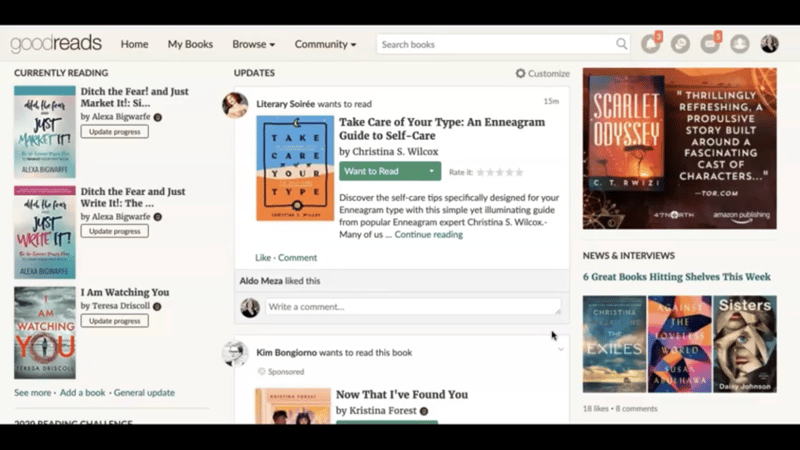 I recently recorded this introduction to GoodReads for authors that you can check out on my YouTube channel.
If your book is available on Amazon Kindle, it's even MORE key that you get your GoodReads profile up and running.
Why?
Amazon doesn't let folks leave reviews on their website until after a book has been released, but the BUZZ of readers is such an important part of having a successful launch.
So want to have your book in places where people can leave reviews leading up to the launch.
---
Want to learn all there is to know about GoodReads?
I have a $37 course that will show you ALL the things!
You TOO can have over 50 reviews before you even launch!
---
Every time we walk a new author through the advanced reader part of our launch process, they get a little nervous. "Won't it kill all my sales if I give away the book for free?"
Well, the short answer is NO. But even more importantly, I cannot tell you enough how important it is for the success of your book for you to have a LOT of reviews and activity on your book. That will bring in organic new traffic outside of your reach. It also gets the eyes of librarians and book retailers on your book.
Having great reviews to influence potential buyers is so important, and you can't snooze on it, especially when you've planned a marketing strategy all around your launch day.
Back to GoodReads. Another cool thing is that it is integrated into the Kindle interface – so if someone is reading your book on Kindle, the option pops up to add it to your GoodReads shelf and mark it as READING. Every time you do something like this, the notification goes out to all of your friends and followers.
So imagine: you will have some avid readers with LOTS of followers on GoodReads, and their entire network is notified when they start reading your book. Pretty amazing, huh?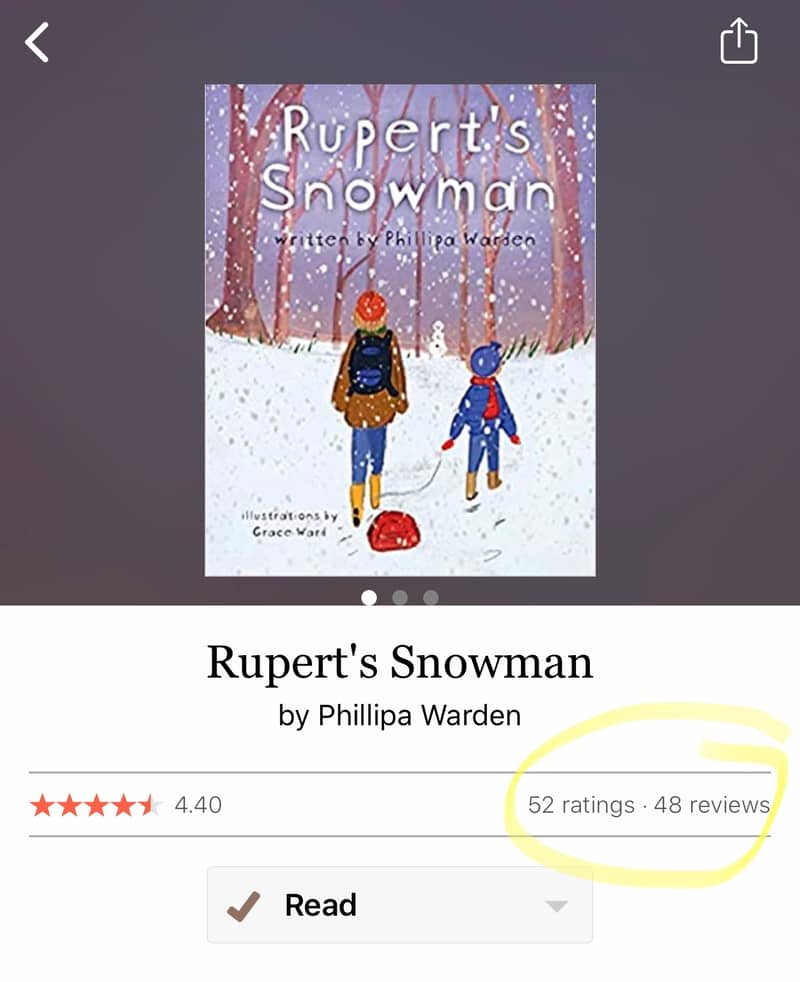 You can see the power of those reviews for our upcoming children's book release, "Rupert's Snowman." Even though the book isn't launching until September 15, Phillipa already has more than 50 people weighing in on her book, endorsing it to their social network. It's all part of a great launch strategy (you can join her launch team and watch her work, friends – she's going to have an exciting one!) and it works both because she has a truly fantastic book AND because she's put in the time to explore and maximize success on GoodReads and other places.
Even more exciting, we just started a giveaway for Rupert's Snowman yesterday, and over 600 people have already entered!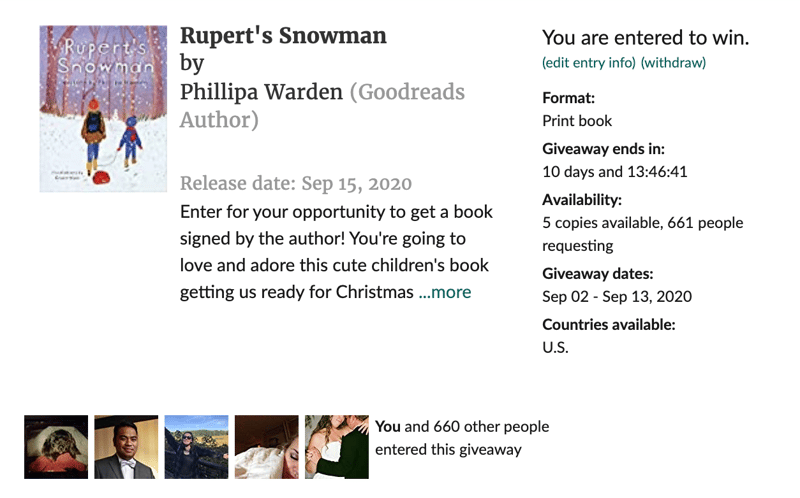 Holy smokes, this is exciting!
Setting up your GoodReads account as an author is one of the totally free things that you can do today to market your book, so go play around with setting up your author profile. Don't be shy: ask your network to be sure to follow you as an author there! And if you want more tips and tricks for a successful GoodReads experience, you can grab my quick, powerful GoodReads course — it's a $37 investment that you'll see returned with increased book sales and a bigger author platform!
---
News from around the (Zoom) water cooler…
I'm participating in a great promotion for anyone who's looking for new books about writing – if you want to build your Author Toolkit, head on over and check out the offerings!
In our virtual world, how will publishers make sure that authors aren't being harassed during online events?
KatBiggie Press is publishing our FIRST EVER YA book! Check out the cover reveal for K.T. Angleheart's "The Wise Ones," coming in October, and look for a free sneak peek soon!
Are editors responding to submissions during COVID-19? One of our favorite experts has the answer.
---
Have fun checking out all the features of GoodReads this week, and let us know how it will fit into YOUR book marketing plan! We'd love to hear about it!