One of the most exciting aspects of being an author is how amazing it is to positively impact and move people. Our words have the opportunity to shape someone's understanding of a situation, move them to take action, help them take steps to heal themselves, provide resources, teach them, or entertain the heck of them. It's really pretty cool; the power of the pen.
Everyone has their reasons for writing. This month we'll be talking about them, and also digging into the how, too – there are different ways to approach writing and marketing a book, depending on the genre it's in. We'll be exploring these ideas with authors who have written on the same topic — the grief and pain that happens when a parent loses a pregnancy or a baby.
DON'T STOP READING NOW… just because that topic doesn't appeal to you. We're using this as an example to showcase some authors, but you can apply these tips to almost any genre.
October is Pregnancy and Infant Loss Awareness Month, and it's important to me for two very important reasons. First, and most essential for understanding who I am as a writer and as a person, I began this publishing path as I was reeling from the death of my infant daughter. I needed to tell her story like I needed to breathe – for myself, for my husband, for her sisters and brother and for all the other women who walked that path.
The second reason this month is important to me is that it didn't just set me on a path to publishing my beautiful Kathryn's story, but it set me on a mission to amplify the voices of others as a publisher and a coach. And in doing that, I've met some incredible women who also had stories to share about the grief of losing a child. I am so honored to be in their company and to get to work with them in supporting their mission.
But what I didn't realized was that writing through grief doesn't look the same to everyone. I saw people creating children's books, self-help books, inspirational books, memoirs and I even put together an anthology. I have even seen women take their painful stories and write amazing fiction books based on their experiences.
Now these are all VERY different books – and while the springboard subject matter is the same, the way they were written and the way we marketed any one of them can be applied to the self-help book YOU have been writing or YOUR children's book than they are to each other!
This week we're going to discuss the self-help/instructional genre, so read on for some tips. You'll also want to be sure to check out the details on the new session of the phenomenal Amazon Ads course our friend is offering, and get the download details for some FREE books to check out as the weather cools off for many of you!
And if you have been impacted by the loss of a pregnancy, infant, or child, or know someone who has, I encourage you to check out our special book bundle, at a very low rate. All proceeds will go to the nonprofit Sunshine After the Storm, which provides care packages to grieving mothers, free of charge.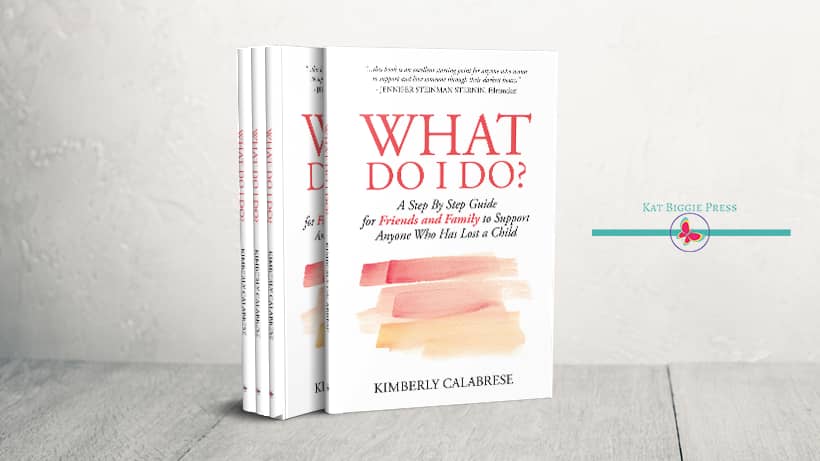 Last year I worked with a really special author, Kimberly Calabrese. After the experience of losing her beautiful baby girl, Paris, she knew that the world needed her message. She spent years doing the groundwork for and writing her book, What Do I Do? A Step-By-Step Guide for Friends and Family to Support Anyone Who Has Lost a Child. Her idea was unique AND very needed, as any grieving parent can tell you: there's only so many casseroles a family needs. What they really need is someone who can sit with them in understanding, and who can do the practical things they need to keep life moving. It is a self-help and instructional book, but not for the grieving parent. It's purpose was truly about self-improvement, in a way – not about getting over grief, but about how to respond to the stress and pain with true kindness; not about how to keep going yourself, but about how to meaningfully help a grieving parent keep going as a colleague, teacher, friend or relative.
The most important thing Kimberly did in this book was years of painstaking research. She interviewed hundreds of people and really collected the information she needed to make it useful. It can be tempting when you're writing self-help or instructional books to make it all about you – I mean, you're an expert, so why not?
But doing the work to dig into where your experience is universal – or if there even is a universal experience in your subject area – and identify patterns of success is VITAL to this kind of book's quality. Thanks to countless hours of talking to other grieving families and seeing what supports they'd wished for, she was able to give comprehensive advice that works for a huge number of people. Given that 1 in 5 pregnancies end in a loss and that the U.S. still has fairly high infant mortality rates, most people know someone touched by this grief. Because of the thorough research and time spent analyzing it in the writing process, she was able to target a potentially enormous audience.
When it came to marketing, Kimberly first began raising awareness of the need for compassionate, practical grief support, and she wanted to offer the same sort of practical tips she got into deeper in her book. To do this, she hired a publicist who helped position her as a subject matter expert. She got booked on many news shows from major market local news segments to national cable broadcasts. She was able to speak to people about her why really effectively.
But as a marketing tool for the book, it didn't quite catch fire. A key element to selling an instructional or self-help book is, the person you're trying to help has to want to change. We discovered that the book was like most self-help books – not the kind of thing you buy and keep on a shelf "just in case." When you need it, you need it now. But until you need it? You won't buy it.
In strategizing the next step for this important instructional book, we realized that there was one kind of audience for this book that DID need to think ahead: organizational buyers. That's just a fancy way to say that the businesses, companies, medical offices, nonprofit groups, religious communities and educational institutions who are constantly encountering grieving families have more motivation to prepare – and, important to Kimberly's book, to improve – their response. She pivoted to market her book to the people who wanted to proactively change because their organizational and business health depended on it.
If you're writing a how-to style book or a self-help book, you might think you know who you're talking to. But, having worked with Kimberly's amazing book, I have definitely learned to drill down even further with our ideal audience, and target those who can't afford to back-burner change in marketing the book first.
If all of this has made you curious about What Do I Do?, you can find it here. I can guarantee, as a woman who has lost a child, there is someone you know right now who will thank you for reading it. You can also find Kimberly on her website.
How does your genre inform your writing and marketing efforts? We'd love to hear your questions!